Our Sandbox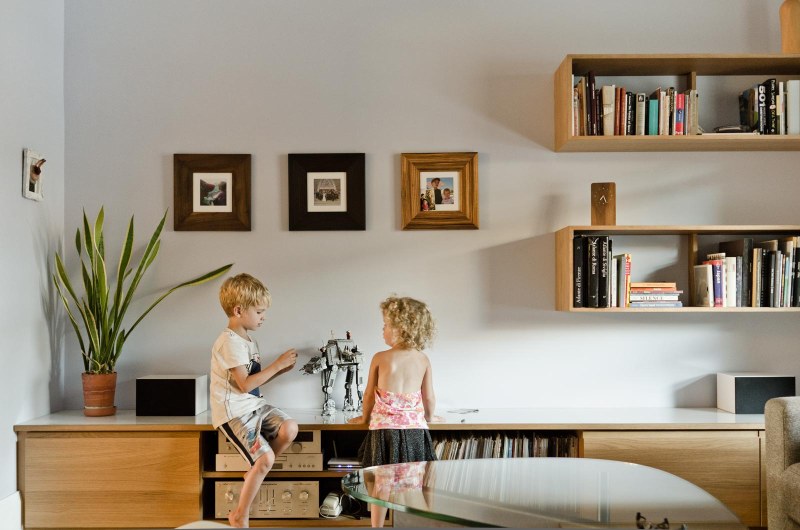 After hibernating most of the winter with our new baby in our 12th floor condo, we decided that a sandbox and a patch of grass would soon be required. A couple of city blocks away and five years later, we were still in the process of transforming the house from its somewhat original form into a bright, airy and comfortable home for our family, now with a fourth member. I remember celebrating when we picked up our building permit for the work we were about to undertake, nearly 100 years after the building's original construction in 1908.
In an attempt to keep costs down, we have been doing a lot of the work ourselves over what feels like an eternity. During the past 5 years, we've landscaped the backyard, opened up the living spaces, added insulation, updated the kitchen and bathroom and created a basement apartment. Much like a large number downtown, home-owning Torontonians, we're living in a prototypical semi-detached 2-storey house with a garage in the back, accessed by a lane-way.
Currently in our office we are tackling 3 different renovation projects to similar turn-of-the-century downtown Toronto semis. Like ourselves, our clients are looking to update old kitchens and bathrooms, open up and add living space, and convert basements into independent suites for their growing families. Through the process of working on these renovations, we find ourselves exploring the same questions of how families inhabit spaces today and how they inhabited these same spaces a century ago. We are discovering the imprints left on these buildings as patterns of living shift over time and the structure of families change.
This all ties into a broader discussion on what makes sustainable architecture and sustainable neighbourhoods. Making use of what you've got is perhaps one of the most basic principles of sustainable architecture. Buildings and neighbourhoods designed to last 100+ years is unfortunately, not as common as it once was. The recent and on-going demolition of Toronto's Regent Park is testament to this notion, having only survived 60 years. Accessibility and durability as well as a building's ability to transform and adapt to different uses extends its life while simultaneously shrinking its ecological footprint.
We are finding that not only are these buildings adaptable to the many forms families and lifestyles take today, the neighbourhoods in which they are a part of are consistently vibrant and ever-shifting. The rear lane access and the efficency of this building type repeated along a streetscape creates a comfortable density to the neighbourhood. This density has the ability to sustain public transit and commercial corridors within walking distance and at the same time, maintain a humanity to urban living. Perhaps you can have your sandbox and eat it too.
It is quite a challenging and rewarding process to transform these old buildings back into beautiful and functional homes for our clients while injecting new energy into their neighbourhoods. Although our own little downtown semi along the Bloor-Danforth subway line is not equipped with solar panels or geo-thermal heating, it is arguably one of the most sustainable building types in the city.